"Being a student of SAN International Info School has allowed me to be a part of a diverse community of students, faculty and administrators who have helped me to shape upon the Completion of my Course".


- K.Senthilkumar, I MCA, Theni - Tamilnadu.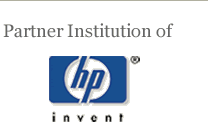 Master of Computer Applications (MCA) program is Approved by AICTE and Affiliated to Anna University Coimbatore. The Course duration is three years and it is divided into six semesters. At the end of the fourth semester the students have to undertake a mini project based on the latest technologies. The fifth semester will enlighten them with the advanced programming techniques and the students can opt for two electives. The students undertake real time projects in IT field for the entire sixth Semester.

SAN & HP
BUILD YOUR CAREER - GROW WITH HP
COLLABORATION WITH HP EDUCATION
Partnering with HP Education, the Global leader in IT Education services gives our students more than just another course in MBA programme. HP is Training and Educating people across the world for 25 years. Today, HP is the recognized leader in providing state of art education, with over 350 HP and partner location, more than 1500 professional instructors globally, and more than 200 product specific courses each year. HP education offers customized education solutions for SAN. No matter which way you look at it, HP education is by far the best choice.

BUILD YOUR CAREER - GROW WITH HP
Student's future is secure with Hp's integrated approach and career-focused, future oriented courses. Integrated learning is an end-to-end approach for delivering the right education to the right set of students at the right time with the right method. Together we give the students an edge no education service can match.

Benefits For Students
GOVERNMENT EXAM COACHING,IBPS EXAM COACHING,SOFT SKILLS TRAINING,TIE UP WITH Saidai Duraisamy's Manidha Naeyam I.A.S & I.P.S ACADEMY
The latest courses, at par with the best in the industry.
The HP Certification of completion.
Increase of employability in the industry.
Partnering with HP Education our prime focus is to ensure that the students possess all professional skills required by the industry, by the time they step in to their carriers. Students under go a rigorous training spread over 50 days at the third semester of their MCA programme. Exposing our students with world class trainers gives the students a global advantage.